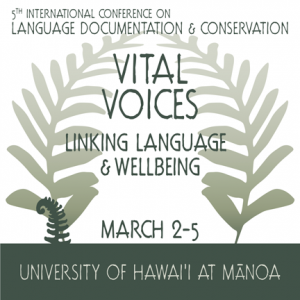 The 5th International Conference on Language Documentation and Conservation (ICLDC), "Vital Voices: Linking Language & Wellbeing," will be held March 2-5, 2017, at the Hawaiʻi Imin International Conference Center on the campus of the University of Hawaiʻi at Mānoa. The 5th ICLDC is hosted by the Department of Linguistics and the National Foreign Language Resource Center at the University of Hawaiʻi at Mānoa.
The theme of the 5th ICLDC is "Vital Voices: Linking Language & Wellbeing." Wellbeing is a state of the body and mind that encompasses the presence of positive moods and emotions, life satisfaction, fulfillment and positive functioning, and the absence of negative emotions like anxiety. Increasingly, researchers in several fields have noted a positive correlation between language maintenance and wellbeing in endangered language communities. While the nature of the connection between language and wellbeing remains the subject of much debate, the existence of a connection is not entirely unexpected, given the range of outcomes associated with wellbeing.
Here's the WAYK session summary:
Where Are Your Keys (WAYK) is a collection of practical techniques for immersion designed to create communities of skilled language teachers and learners. With the help of many participants and partners over the years, we have been able to distill memorable strategies for creating safe, inclusive, and collaborative learning environments. Join us for a session that will include hands-on lessons (in a demonstration language), examples of curriculum, and fun techniques for immersion elicitation. Whether the goal is language elicitation, documentation, fluency development, or curriculum creation, participants will walk away with valuable tools that can be used independently or can complement and enhance existing methods.