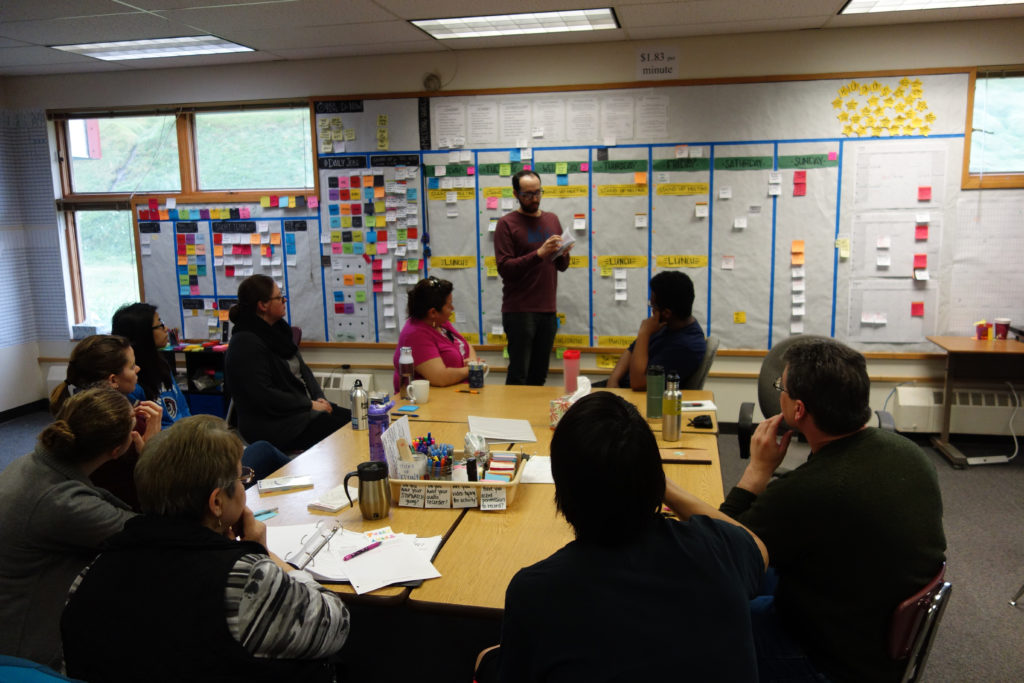 At the time I'm writing this post, it's nearing the halfway point of my internship with WAYK and my summer in the community of Atka, Alaska. As the days go by, they only seem to pass ever more quickly. But new experiences have been plentiful, just as has my acquisition of knowledge regarding the WAYK method, language teaching and learning in general, and what island life is like for this small, isolated Native community.
Upon our arrival to the Aleutian island of Unalaska, things got going. From taking a small tour of the area and getting to see its beautiful landscapes and wildlife (e.g., bald eagles, sea otters, and a whale!), to starting our orientation to the WAYK method at the hotel and in the airport as we waited for the weather to clear so we could make our way to Atka, it was all new and great. And being that I come from such landlocked and arid places like New Mexico and Arizona, it was an extreme, although much welcomed, change. Not only was it my first time in Alaska, but I was heading to one of its most remote locations, one that even most Alaskans don't get to visit.
Because Evan and Susanna weren't able to make it to Atka ahead of us and in time to setup the WAYK house prior to our arrival as was originally planned, we (Erin, Robyn, and I) assisted them in carrying out the process. Although this meant additional work for us, it was an important aspect of our upcoming summer that was good for us to see as well as to contribute to. So many details to consider! As someone who sees the possibility of a Tewa Tuudi Tewha (Tewa Language House) in the future, it was an invaluable experience. There's a lot of seemingly non-language related thought and work that must go into a summer filled with language.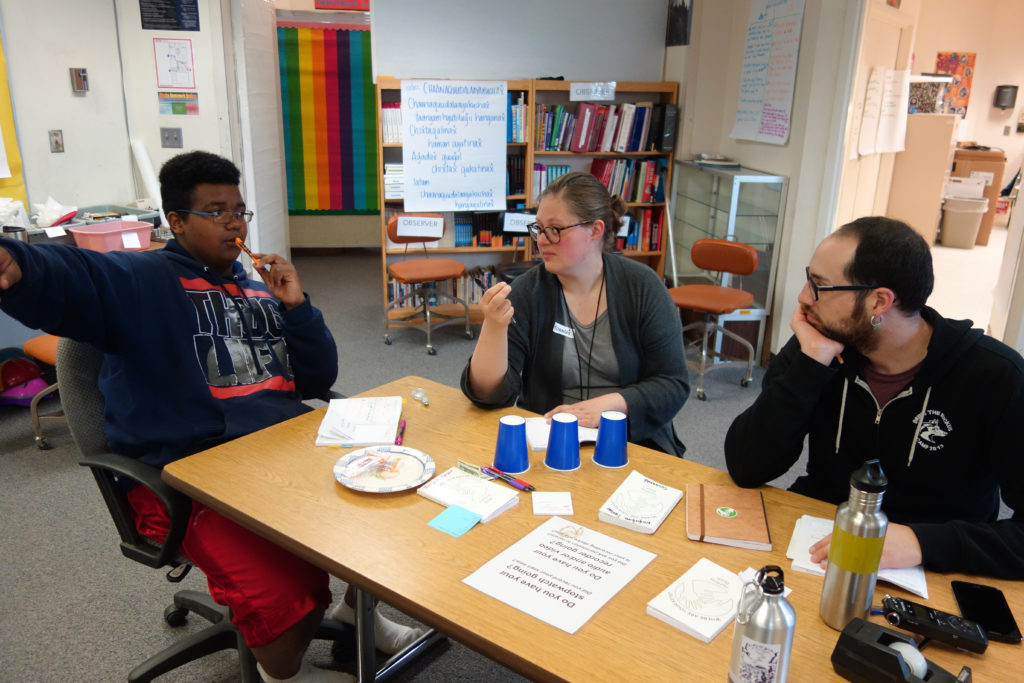 What has been especially nice (and fittingly so) is that the summer has been all about language, all of the time. We think about, take it in, and discuss it on a constant basis (conversations surrounding language and what life might be like after WAYK abound). In my normal life as a graduate student whose work is partially concerned with the revitalization of indigenous languages, I get to delve into this topic more so than I would otherwise. However, along with pursuing a degree comes a lot of other responsibilities that pull me in different directions. My internship with WAYK has allowed me to give language the undivided attention it deserves.
Also, something to note is that even though the language we're focusing on isn't my own, the experiences I'm gaining from the process of helping to carry out a project such as this are probably even more beneficial than if we were working in my own community at this point. By working within a community and with a language that is not my own, I'm able to distance myself from what is taking place in that it doesn't (for better or for worse) affect me as much as it does the members of the Atkan group. When a mistake is made, I can learn from it and hopefully avoid the same situation within my own community. When progress is made, it will help inform me as to what is possible and our ability to reach a similar milestone will come even sooner.
This brings me to the actual WAYK method and what I've gained from it so far. (Hint: So much!) I should start by saying that prior to learning about the opportunity to intern for WAYK, I wasn't at all aware of the organization or their work. It wasn't until I received a call for applications email with "Summer internship in AK" written in the subject line that I had my first glimpse of the world of WAYK and what the internship was about. Naturally, after reading the email, I went straight to their website to see what I could see and was immediately intrigued by what I did, although, was somewhat skeptical as well. American Sign Language as a bridge language? Throwing TQs (Techniques)??? These were concepts I had not come across in my own language learning journey until that point. But, after some thought as well as multiple viewings of WAYK videos and readings of numerous WAYK blog posts akin to this one, I decided that I had to at least apply. And to show you how much I meant business, the majority of the application was completed during a 10+ hour Greyhound bus ride (i.e., a space that is not particularly conducive to writing about a subject one is passionate about).
So what do I have to report back at this point? Well, I'm am extremely delighted to say that in addition to having been accepted as an intern (obviously), the WAYK method has been a game changer for me in the way I see language in general and the ways in which it can be taught and learned – "Must…..keep….English mind at…bay!" Further, it will most definitely inform how I go about my own path to fluency in Tewa once I'm around fluent speakers again (Virgie! This means you!).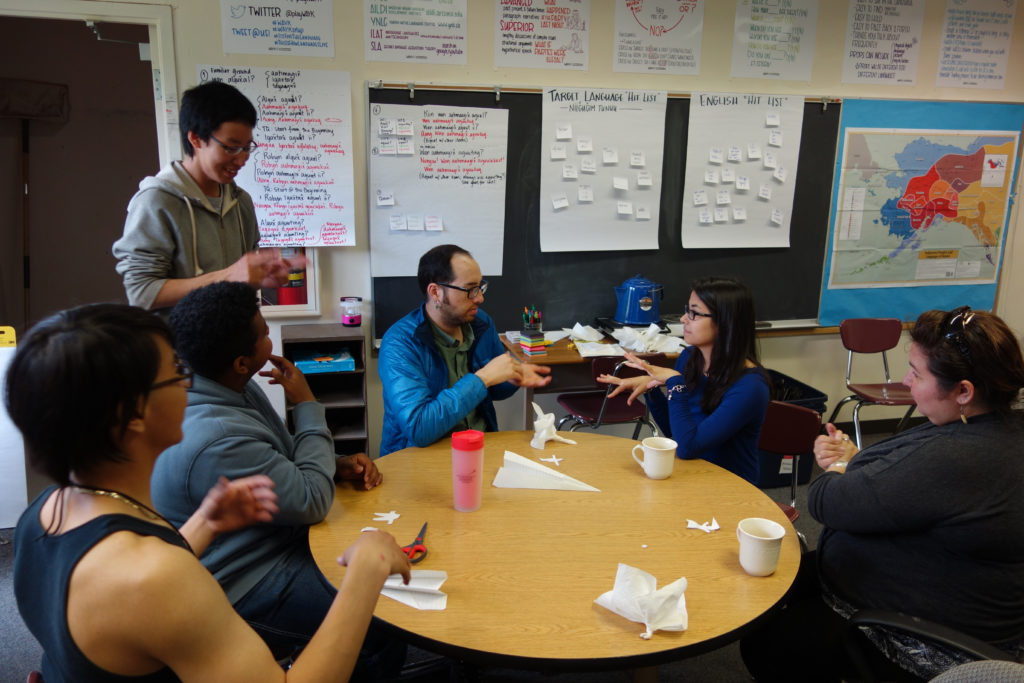 In fact, and I believe this is saying something, I see the WAYK method as being one that has many elements that are in line with indigenous ways of thinking and doing. What I mean by this is that WAYK intentionally looks beyond those methods for teaching and learning languages in which the student remains the student and the fluent speaker deconstructs the language piece by piece, discussing the rules of the language. Instead, WAYK takes a much more natural and common sense approach to the practice (although this may not be obvious at first glance). For instance, a key principle of the method is learning by way of doing, which, in essence is teaching through demonstration and participation as opposed to the mere explanation you will find in most generic language classes.
This stands out to me because, within my community, the way we are taught various skills is through a period of observation and then taking part. Almost never are the elements of a particular practice broken down into fragments that wouldn't make sense if they were explained out of context. One examples that comes to mind is when I was learning how to brain tan animal hides. Although it would have been super interesting, not once did we discuss the chemical composition of the brain that makes it a good choice for helping to break down the fibers of the hide. Instead, we got straight to work, removing the fur, putting the hide in a mixture of water and brain, and working the hide in order to turn it into leather.
Speaking of community, something else that's been great to take part in is the development and carrying out of what is now a weekly event – community language night. It takes place every Thursday evening and runs for about an hour and a half after all is said and done. Having the opportunity to practice what we work on every day with new language learners is not only fun, but has us honing our skills and language teachers. It was only several weeks ago that I knew nothing about Niiĝuĝim Tunuu and now I'm helping teach it!
Finally, something else that must also be mentioned is what occurs outside of official language learning/teaching time as well as in addition to it:
Taking a trip aboard the research vessel Tiĝlax̂ to the neighboring island of Amlia in order to visit an old Unangax̂ village site
Having a "Sunday Funday" with members of the Atka team down at Korovin beach where we ate a great meal
Casting a few fishing lines out to sea on a couple of occasions
Learning some Español with Evan during meal prep time
Debating the proper pronunciation of words with our Canadian team members (e.g. the word "been" that Robyn and Erin pronounce "biin," as in the title of this post)
This kind of stuff has just been icing on the cake.
Post authored by Samuel.