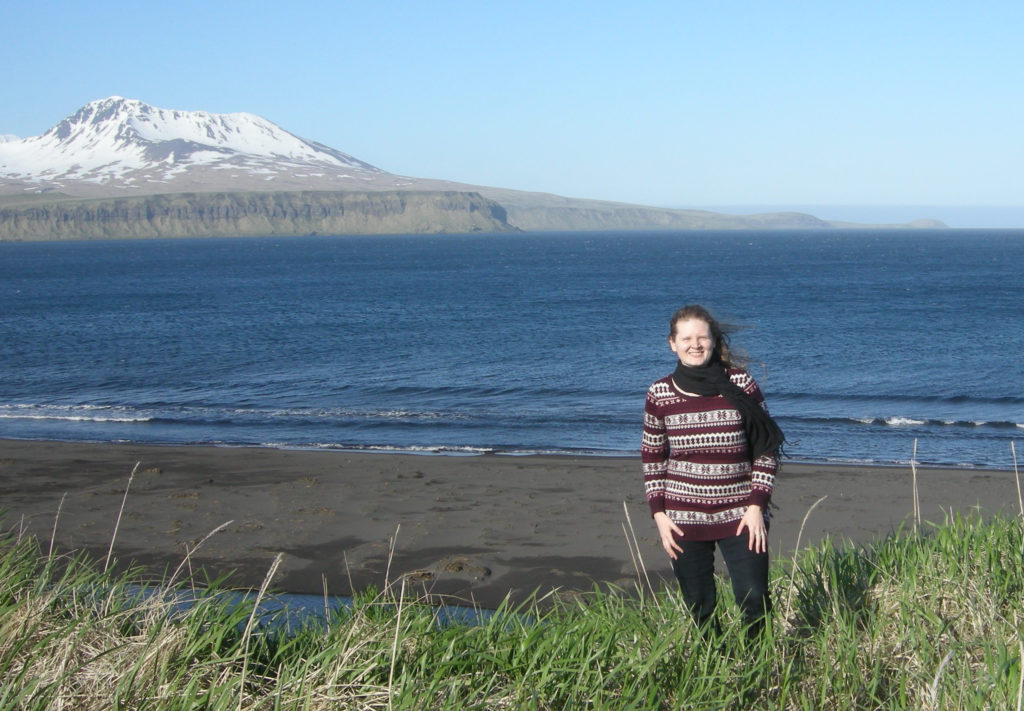 Hi, I'm Erin McGarvey.  I am originally from Jordan, a very small town just outside of St. Catharines, Ontario.    My school only had about 160 kids and my house had grape vineyards behind it and woods in front of it.  When I was nine, I moved to the city, but I have will always have a soft spot for small towns.  I am the youngest of four kids. In my spare time I love to read—fantasy is one of my favourites (ooh, conlangs and fancy fantasy scripts!), though I will read from many genres.  I also love to create things—I usually have some sort of creative outlet going on, such as making jewellery, calligraphy, or sewing.  Crocheting is the next thing I want to learn.  Recently Robyn and I found yarn and crochet hooks at the store and Robyn offered to teach me while here on Atka.
I have just finished my undergraduate degree at Western University in London, Ontario where I specialized in Linguistics and majored in Music.  I will be beginning a Masters program in Linguistics at the University of Alberta starting September of 2016.  Really, I like to think of myself as a wannabe Linguistic Anthropologist because I love how language and culture and history intertwine and influence each other.  To me, learning a language is 'learning a people' rather than a list of words and grammar rules.
I can't say that I have always loved languages, because if you asked me 10 years ago, I don't think I would have given a very enthusiastic answer.  At that point my only experience for learning languages was in a French classroom at school, and while I always had good grades in French, I never truly internalized it.  To this day, after having gone through seven years of French classes, I only have a moderate reading ability and marginal writing ability but almost no spoken proficiency to speak of.  It wasn't until I moved to China that I realized I have something of a knack for learning languages and fell in love the idea of language as a microcosm of culture and history of a people.  While in China, amongst the people and culture that constantly swirled around me I gained a deeper understanding of Mandarin.
Since then I have had other experiences of language, from purely independent learning—I have dabbled in internet language learning, trying to reclaim my waning French ability and even attempting Irish from scratch on Duolingo—to purely linguistic field work, where I learned lots about the structure of language and gained almost zero language speaking ability.
My interest in language revitalization and indigenous languages has been evolving for some time, but looking back, it seems inevitable that I would end up where I am now.  When I learned about the field of linguistics, it was from people who were working with minority ethnic groups in Asia while I was living abroad in China.  I learned about linguistics not in an academic classroom setting focused on technical data, but while I was living abroad in China immersed in a new culture that was foreign and while I myself was learning a new language.
Once I began studying linguistics in University, one of my professors (a linguistic anthropologist) saw my interest in language documentation and revitalization and took me under her wing and fostered my developing interest in the intersection of language and culture.  Initially, my interest was in going back to China to do language work, however over the years, helped along by the guidance of my professor, I have become more and more aware of and interested in working with the indigenous languages of North America which represent a very diverse linguistic and cultural heritage that could very quickly be lost.  So for me, the WAYK internship was a no-brainer opportunity.  It is a place where I can immerse myself in a community of people who also love 'doing' language and culture, a place where I can learn both about the realities and practicalities of language revitalization, and to learn to be a better Canadian by learning about the heritage of the land I call home.
Post authored by Erin. You can follow Erin on Instagram at @erinmajailei.