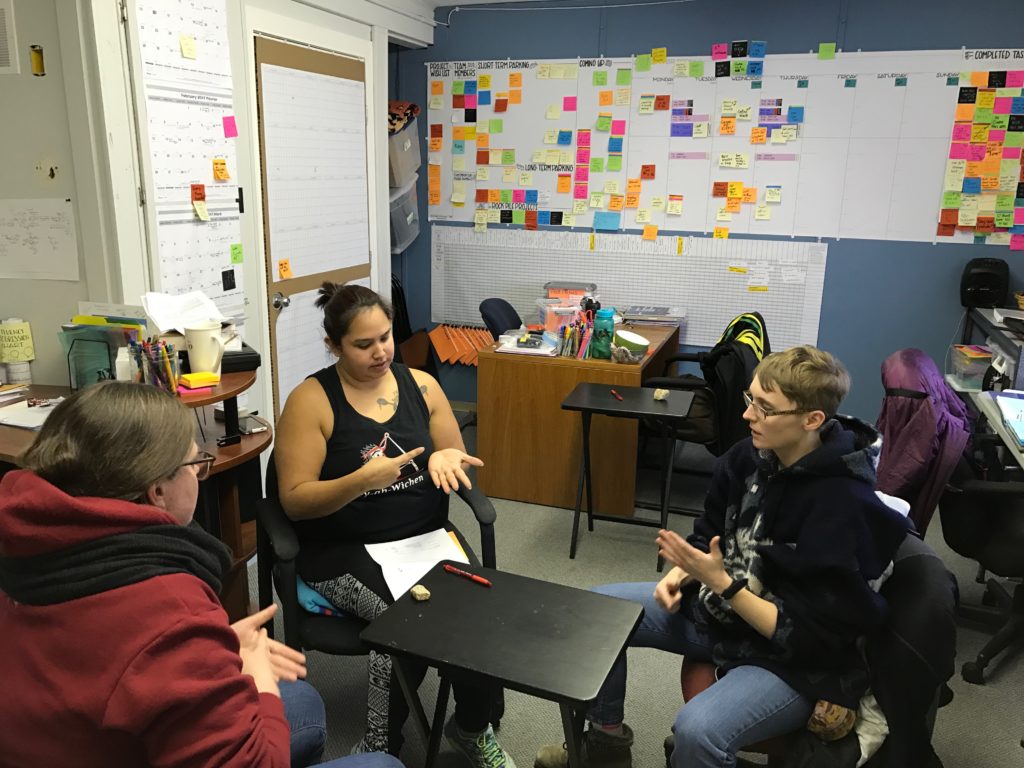 After Kay joined us for a few weeks in North Vancouver, BC working with Tsleil-Waututh Nation and Songhees Nation, she returned to Chicago. Here's an update!
Before I left Vancouver, Evan and I crafted a detailed plan on how to get me fluent in Tagalog. Having a fluent speaker in my house—who was a really great cook, by the way—I would focus my hunts in the kitchen. I would ferret out words and phrases for food and cooking. This would begin with short, "drive-by" interactions to prime my speaker, and then diving headlong in with the covert use of Techniques.
Of course, that plan fell apart the minute my plane landed.
My fluent speaker was called away for babysitting duty within 24 hours of my return and remained away for about a week or so. So I turned to the other person in my house with knowledge of Tagalog, my partner. Having lived in the Philippines for the first decade or so of his life, he knew three languages—his local language, the national language (Tagalog) and English (as a second language). He just hadn't spoken the former two in the two decades since he'd come to the U.S.
I decided to experiment on pulling language out of him because my fluent speaker was out of town and I needed hunting practice. It started with "Ano ito?" and turned into a full-fledged TQ: The Walk. We spent twenty-five minutes in the language at one stretch.
So I decided to see if I could push the envelope a bit more. The covert tactics Evan and I had cooked up just wouldn't work in this situation. My partner knew all about WAYK. Besides, we'd been together for six years at this point, so he would know if I was up to something sneaky. I initiated a dinner-prep conversation. We were cooking Adobo, which involves caramelizing mga bawang and mga sibuyas in a pan.
Because the number of verbs I know with regard to the kitchen is fairly limited (mostly maglinis and maghanda), so the conversation went different routes. The highlights were figuring out how to use Ilana ng mga ______ gusto mo?, making several very cheesy word jokes (maghanda ka ang maganda ng sibuyas), and making our own version of Frozen's "Let It Go" in Tagalog (Adobo, adobo, gusto ko ang pagkain mo).
The scope of the conversation was limited in space and time to the kitchen and the current day. With that in mind, we spent a total of forty-five minutes in the language at (mostly) normal-speed conversation, with me occasionally asking my partner to slow down or to say something again.
We had a conversation the next day about the immersion bubble, with both of us describing our experiences. For me, I developed a physical headache after the immersion sprint. It felt as if I had discovered a new muscle in my brain and I made it do one hundred pushups on the first day. My brain felt flabby and tired.
My partner described it as "going up into the attic" of his mind, and pulling things out of boxes; if he stared at something long enough, it usually came into focus. If he couldn't remember it, he called mamaya and we let it go for the moment.
As the weeks go by, my hunts will continue. My fluent speaker has returned from babysitting duty, so I look forward to pulling further cooking and kitchen words from him.
Post authored by Kay.