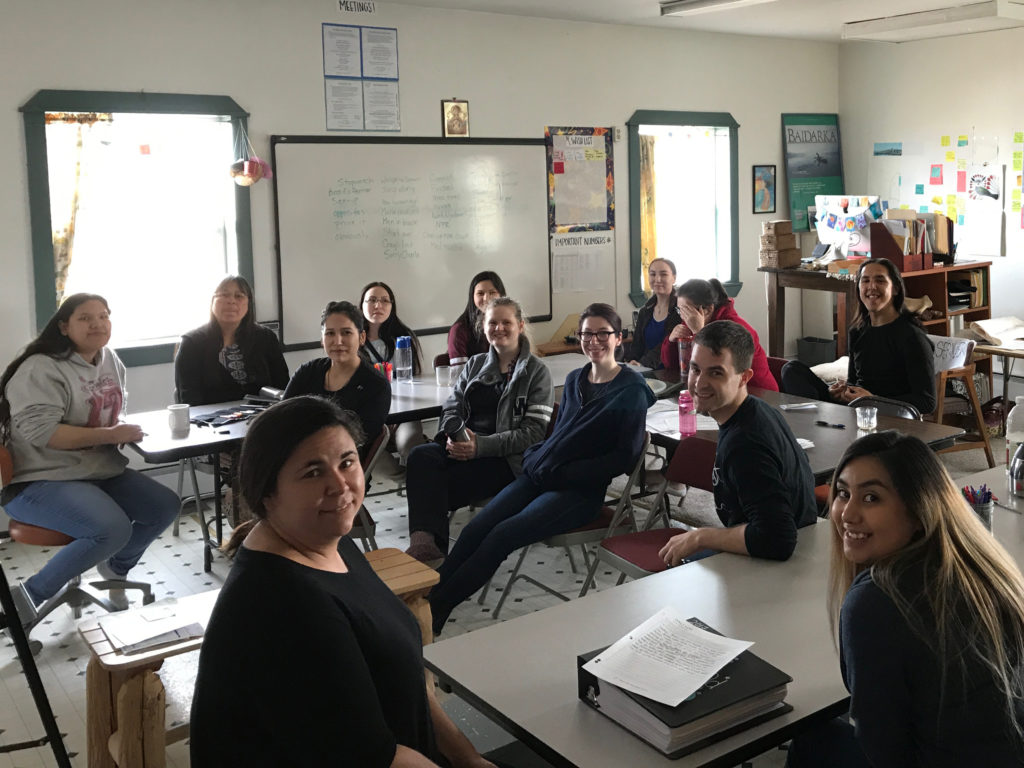 I would like to give a shout out to the Unangam Tunuu Speaking Listening Teaching Team (UTSLT) on St. Paul Island. 2017 was WAYK's third year partnering with the Aleut Community of St. Paul Island, and I was brought here to be patient and supportive student for the UTSLT members. As a fellow Unangax̂, and as it was my first time being on our homelands, it was truly an honor to have be taught by this team, led predominantly by young people.
The local team on St. Paul Island has created a very special space to nurture and help their/our language grow. They have done so in the following ways:
Through their commitment to keeping Unangam Tunuu alive, the local team has provided a safe and welcoming physical space for language learning. This is a radical shift a way from the learning spaces that have existed on the Unangax̂ Islands and across the United States the last few generations. I remember hearing stories from my mom that my grandma was spanked for speaking her language at a school in Nikolski, another Unangax̂ community. There is much more that I could share on this topic which is beyond the scope of this blog, however, it is important to emphasize the limited access to supportive schools and learning spaces, which stresses the urgency for a physical space devoted solely to Unangam Tunuu.
The local team has inspired and helped lead a Unangam Tunuu language movement across the islands. 2017 was the second summer the local team has hosted a language camp called the Unangam Tunuu Download Camp (UTDC) that is open to Unangax̂ peoples and descendants across the Pribilof Islands, Aleutian Islands, and Alaska. The purpose of the UTDC was to create a learning community of speakers who are in engaged for two weeks in learning and speaking Unangam Tunuu. The local team organized lesson plans and facilitated the dissemination of the lessons during the UTDC.
The local team disrupts traditional student-teacher relationships. In a traditional public school/institution, dichotomies between teachers and students are rarely disrupted or undone, "positioning teachers as depositors of knowledge and neglecting the funds of knowledge that young people bring to school from their homes and communities" (Haddix, 2015, p. 64). The local team has flipped this dichotomy around, and the young people within the team have the opportunity to step into the role of "teacher" multiple times throughout the summer, with an assistant (see TQ: Magician's Assistant) to teach off the language. I witnessed several times throughout the summer team members inviting adults to leave a learning space, because they were confident in their ability to teach off a lesson alone.
There is a lot more that I could share about this wonderful team, but I will limit this blog to these three reflections. I would like to thank the local team for inviting me into your community and teaching me our language. It has truly been an honor.
Post authored by Talia.