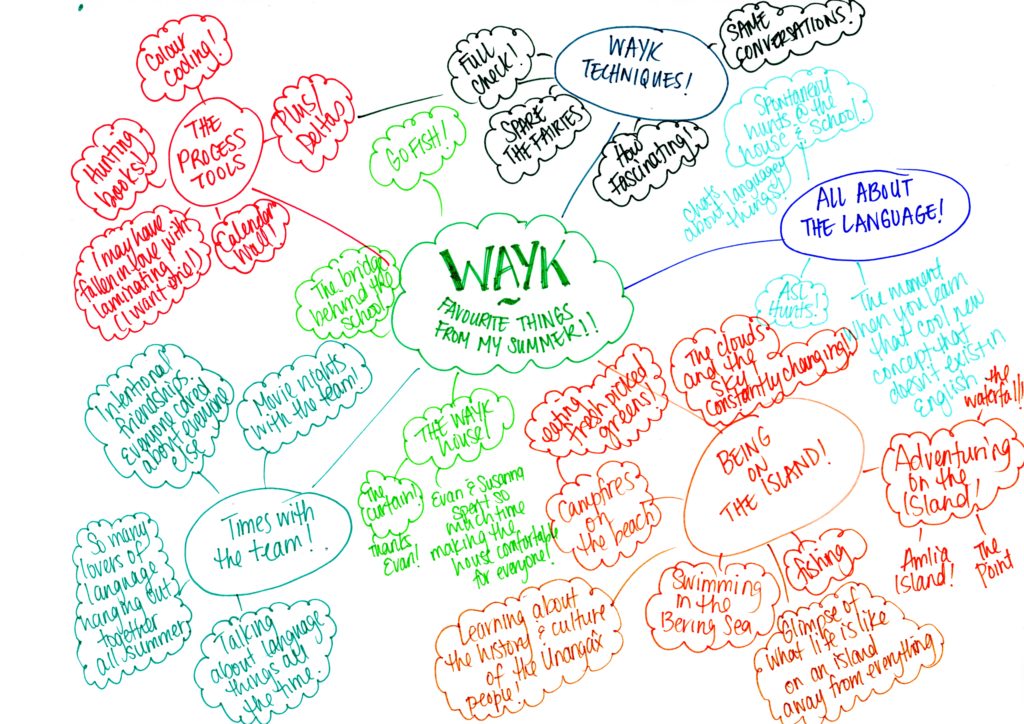 When I sat down to write my blog reflecting on the summer of 2016, I knew it would be a difficult blog to write. I have never been someone who had just one favorite thing—my favorite color depended on my mood and my favorite books could probably be a library in and of themselves. So, when I sat down to think of my favorite thing from my summer as a WAYK intern I knew I wouldn't be able to keep it to one thing. Instead, I decided to take a page from Maria's book and tell you about "a few of my favorite things."
And to organize my thoughts down to just a few, I decided to rock a (very colorful) mind map! As you can see there are a lot of things on that list! But as I looked at all those things there were a few themes that stood out in particular. If I had to sum it up I think my favorite things were: the language, the relationships, and the dinner table. So many of my favorite things can be summarized by the hashtag that we used all summer, #itsforthelanguage, because WAYK is about exactly that—everything really is for the language. Even though the Techniques and process tools can be applied to other areas of life, they were developed or incorporated because they support the work of revitalizing a language. Beyond that, everyone on the team was there with a unified purpose. Whether I was listening as my team members talked about language things, future language plans, or watching as my teammates tried Set Ups and used the language with each other in conversations—our everyday life was full of things that just shouted #itsforthelanguage.That brings me to my next favorite thing: the relationships. If you look at that mind map so many of the things I loved were things I did with my team members. I loved the times that our local team would meet up for campfires or trips to the beach, or go adventuring to different areas of the island. It brought our team closer together and made us stronger because we genuinely enjoyed each other's company. It was not uncommon for us to stay at the dinner table well after we were finished eating just talking about all sorts of things—telling funny stories, talking about languages in the area, telling stories about language revitalization, doing impromptu language hunts. Also: "wingstravaganza", a massive dinner that we threw with the copious amounts of chicken wings that we accidentally received in our barge shipment? YES, PLEASE!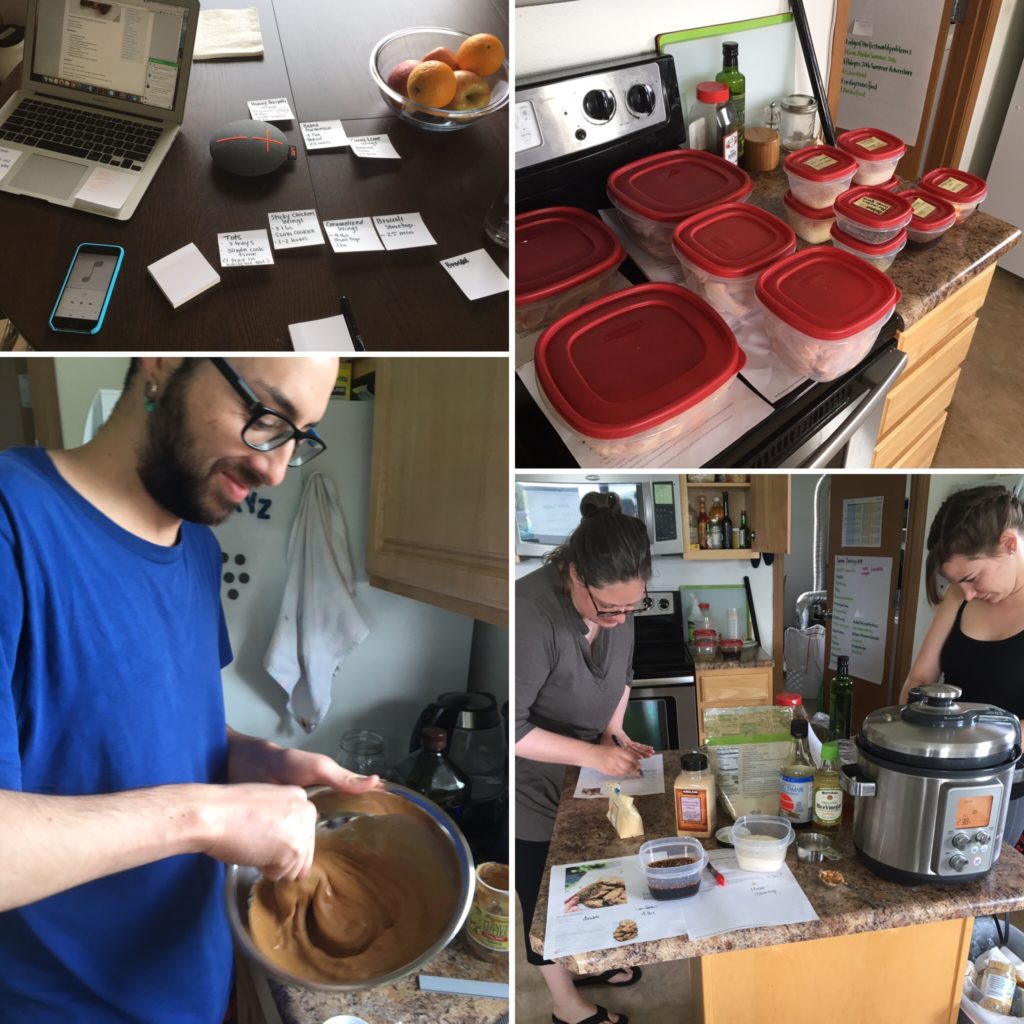 And now we have arrived at my final favorite: the dinner table. Chatting, planning, hunting, and learning—all of those things happened around our dinner table, in addition to sharing all of our meals together. Even with how much time we spent during the day learning the language, some of my favorite times were when spontaneous language hunting sessions happened in the evening, around the dinner table, chatting over tea, learning about a new type of food.
Casey wrote about the intersection of food and language during the St. Paul Summer Language Intensive and this summer on Atka I found that I wholeheartedly agreed with her. In this case though, I think my favorite things went beyond language and food. It was language in life. That is what the dinner table signifies for me: the intersection of people, and life, and language. The language wasn't only used during the hours that we were at work, nor did it only live in a classroom. It came home with us—we used it around the dinner table, we used it in the kitchen. Our house became a safe space to play with the language and fall in love with it from one "How Fascinating!" to the next, through every Full Tell and moment of laughter and we made close friendships along the way. Maybe, in the end, I did stumble upon one favorite thing after all—the dinner table is a symbol of my favorite part of the summer because it became a place where so many of my favorite things all met.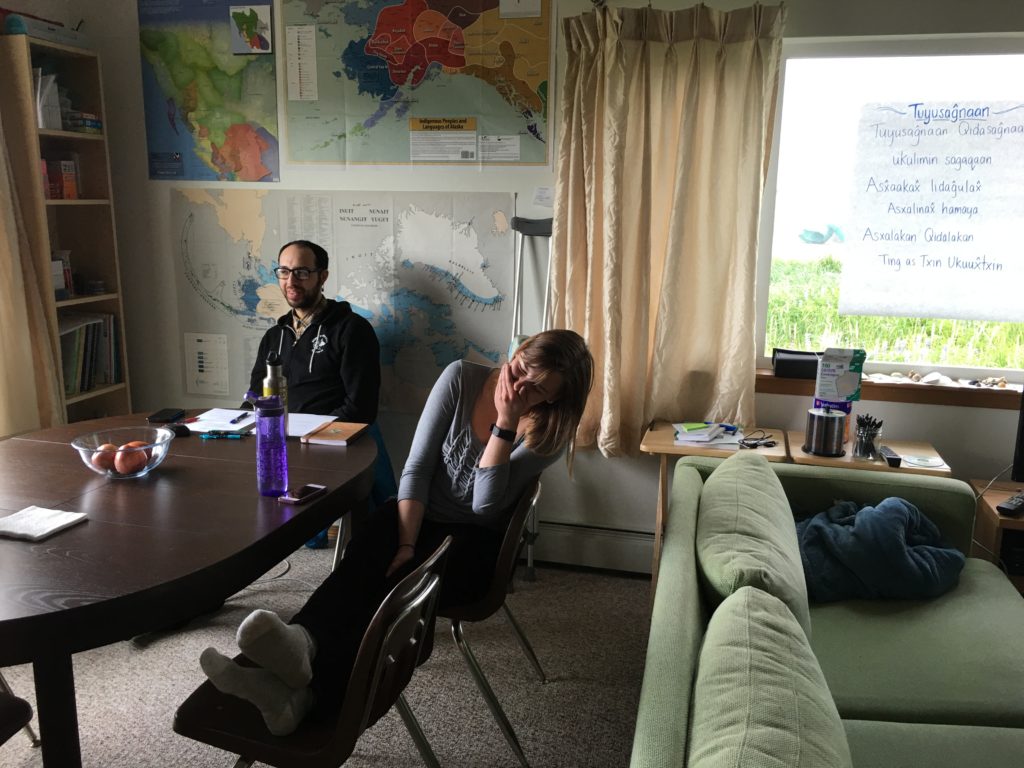 Post authored by Erin.