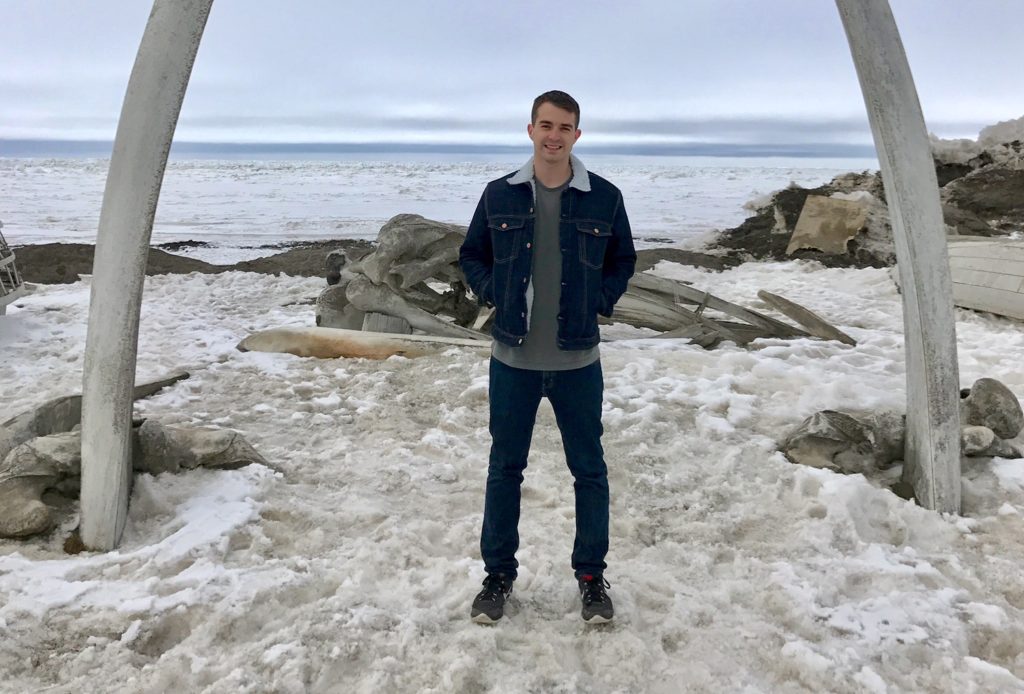 Hi! My name is Myles Creed and I am really excited to be involved with the WAYK Language Intensive on St. Paul Island (Tanax̂ Amix̂ in Unangam Tunuu) this summer. My ancestry is Irish, English and French, and my parents are John Creed and Susan Andrews, who grew up in Massachusetts, but moved to Alaska about forty years ago. I was raised in Kotzebue, Alaska, which is on the land of the Qikiqtaġruŋmiut Iñupiat Nation. In Kotzebue, I had some exposure to Iñupiaq language through school, but the Alaskan public school system never gave the necessary support to language and cultural programs. I attended Mt. Edgecumbe High School in Sitka, Alaska, where I met other students from all over the state, including from St. Paul Island. After attending college in Portland, I lived abroad for a few years in the Netherlands, Belgium and China. Living abroad helped me to understand the deep relationship between language and culture, and also the difficulties that come in trying to learn another language. After returning to Alaska, I worked for the Alaska Native Heritage Center's Iñupiatun & Yugtun Language Revitalization Project (IYLRP). In this project, I worked closely with other teachers, as well as language advisors and elders to develop lessons for teaching Iñupiatun through immersion methods such as Accelerated Second Language Acquisition (ASLA), Total Physical Response (TPR) and Where are Your Keys? (WAYK). Our advisor was Dr. Edna Ahgeak MacLean, who wrote the comprehensive Iñupiaq dictionary; I can say that getting to work with her was the greatest privilege of my life so far. For the last year, I have been in a graduate program in Linguistics at the University of Victoria, in Canada. When I graduate, I hope to use my degree to contribute to language revitalization efforts in Alaska for the rest of my career.
I was introduced to the Where are Your Keys? method by my best friend, who had been using the method to facilitate weekly Lingít language circles in Anchorage. I was drawn to WAYK because it seemed like such a fun way to teach language and because there were so many good techniques for facilitating immersion. It seemed like a great way to get people excited about language learning. I met the WAYK team (Evan and Susanna) when they came to do trainings with the teachers at the Alaska Native Heritage Center a few years ago, and since then, I have learned a lot more about the method and have used it in my own teaching a lot. I hope to learn much more this summer.
I am really excited to be involved with the WAYK Summer Language Intensive on St. Paul Island, because it is cool to see how using the WAYK method to learn language (along with other methods, of course) over a few years can really result in progress in language ability. The local team here seems to have some strong language and teaching skills that they are eager to share. It will also be interesting to see in which ways the language efforts here can inform language efforts in the rest of Alaska. I hope to share what I learn here with my friends in the Iñupiaq language learning community. I also have never been to this part of Alaska, and it is fascinating to learn more about the history and land of this beautiful island.
Post authored by Myles.