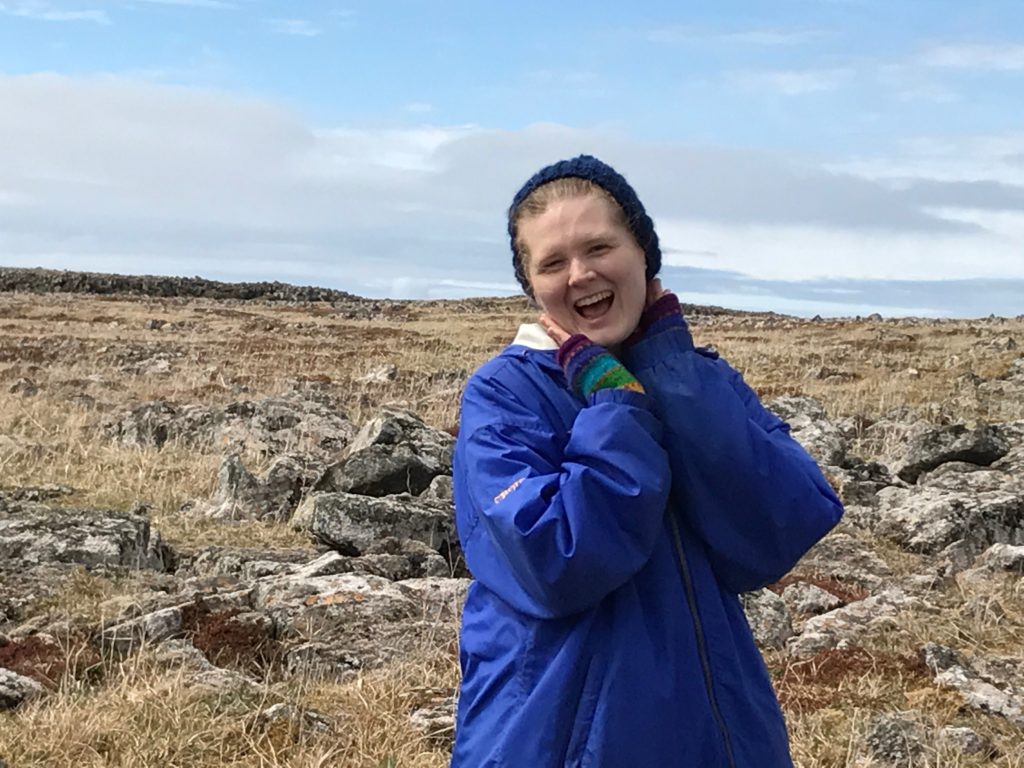 My name is Erin McGarvey and I am originally from London, Ontario, but am currently living in Edmonton, Alberta. This will be my second year as an intern with Where Are Your Keys? (WAYK). I was introduced to WAYK last summer as an intern during the Summer Language Intensive program on Atka Island, Alaska. As an intern, I was impressed with how much of the language the local team was able to learn over such a short period of time. I saw the excitement that everyone had at seeing the youth once again speaking Unangam Tunuu and I became fascinated with the tactics and programs that communities are using to revitalize their languages.
I am currently working on a Master's degree in Linguistics with an interest in language revitalization at the University of Alberta in Edmonton, Alberta. I just finished my first year and will spend the next year planning and writing my thesis. Last semester I therefore had the difficult task of trying to figure out what topic I would choose for my thesis research. I tossed around a few ideas with my supervisor during the year, but none of them really seemed to stick. I talked with different people about my various ideas and several people commented on how excited I would get whenever I got talking about my experience with WAYK. While I knew I had loved my experience as an intern, having people comment on how excited I would get made me realize that I had valued the summer experience much more than I had originally thought. I wasn't sure when I would be able to work with WAYK again, but I definitely knew I wanted the opportunity. I had learned so much from using WAYK and living in the community in Atka.
A summer with WAYK is also just really exciting and enjoyable. If you have read the other blogs by returning interns, it might seem repetitive for me to say one of the reasons that I came back was because of how much fun I had as an intern last year, but it is actually a big part of the whole experience. Language learning often gets a bad rap for being really stressful and boring, but as I learned last summer, it does not need to be. There are lots of tactics or methods or strategies that you can use that make language learning not only intensely satisfying, but also very enjoyable. Laughter is a really great language learning tool!
WAYK is one of those methods that makes language learning fascinating, so when I was invited to take part in the St. Paul Island Summer Language Intensive as a returning intern, I did not need any convincing! As I write this, we have just completed our first two weeks of the summer program. The St. Paul team has been so gracious in welcoming us. I have enjoyed getting to know everyone and am really excited to form deeper friendships as the summer progresses. It has definitely also been great to use the WAYK method again, and I am curious to see the subtle nuances and differences of how it is implemented in the St. Paul Island community. This is only just beginning. Can't wait to dive in to the rest of the summer!
Post authored by Erin.